Hazing Injury & Death Attorney
Protecting Victims of Hazing in Florida & Nationwide
For too long, hazing has been a tradition that is often excused by those who claim that the conduct has been going on forever and is therefore acceptable. What is all too often brushed off as "good fun," however, can lead to catastrophic consequences: severe duress, lifelong injuries, and even death.
At Stewart Tilghman Fox Bianchi & Cain, P.A., our team of hazing injury and death attorneys have been representing the families and victims of hazing for decades.
We've obtained the largest fraternity hazing verdict in U.S. with the Chad Meredith case, represented too many parents who saw their sons die from fraternity-related alcohol abuse, worked with families who must deal with the consequences of brain injuries as a result of hazing rituals gone bad, and more. We've worked with families across the nation who have suffered because of hazing, and we have long been leading the effort to stop it. From recovering $14 million for the parents whose son drowned in a hazing event to helping write legislation to criminalize it, we work tirelessly to advocate for those affected by hazing and will continue to do so—giving victims a voice and providing them with a path to justice.
The Mental & Emotional Consequences of Hazing
Although the media only reports the hazing that results in fatal or serious injury, hazing causes untold amounts of harm to thousands of students every year. Hazing happens to students of all genders and ages, from middle schools to universities. When surveyed, half of college students in clubs, sports, or organizations reported being hazed at some point.
Hazing abuse can result in problems like:
Inability to sleep
Loss of agency/feeling of control
Degraded relationships with friends and family
Growing sense of isolation
Loss of trust in organizations
Emotional or mental instability
Inability to complete coursework or earn good grades
Post-traumatic stress
David Bianchi Appears on Prime News as "Country's Leading Hazing Lawyer"
In October 2021, David Bianchi was interviewed by Prime News for a story on university hazing. In the interview, David was asked what it would take to get rid of hazing practices, and whether Greek life could realistically be abolished. David responded with a clear solution: universities need to immediately expel everyone involved in a hazing incident, fraternity officers and participants alike. By instituting clear consequences for hazing, fraternities could become their own police patrol (or, also possible, no one would be willing to become officers).
Watch the full interview below:
Parents of Andrew Coffey Make Anti-Hazing Pamphlet
Tom and Sandra Coffey are the parents of Andrew Coffey, a young man taken away too soon by his fraternity's reckless behavior. We represented the family in their legal battle against Pi Kappa Phi and the people who had a hand in Andrew's death, as well as in the legislative campaign to pass Andrew's Law. As part of their effort to prevent Andrew's tragedy from repeating, they created an informational pamphlet to help students identify the red flags of hazing behavior. Efforts like theirs will one day ensure that hazing is a thing of the past.
Good Morning America Reports on Efforts to Get Answers About Potential Fraternity Death
In October 2019, Antonio Tsialas went missing after attending a fraternity event at Cornell University. His body was found two days later at the bottom of a gorge. Despite being seen by multiple witnesses, weeks later still no one had come forward to reveal what happened that night. Attorneys David Bianchi and Michael Levine are working with the Tsialas family to get answers about what happened to their son. Good Morning America shares the heartbreaking story in the below video.
Other Media Outlets That Have Covered the Story Include:
CNN - A Cornell University student was last seen at a fraternity event. His family is offering a $10,000 reward for information about his death
CBS News - Parents of Cornell freshman found dead after frat party offering $10,000 reward: "We would just like the truth"
ABC News - No 'definitive answers' after Cornell University freshman's body found at the bottom of a gorge after frat party
The Cornell Daily Sun - Family Hires Private Investigator, Posts $10,000 Award for New Information in Cornell Freshman Antonio Tsialas' Death
NBC News - Parents of Cornell freshman who died after frat party offering $10K reward
ABC 7 - Parents of Cornell University student who died after frat party demand answers
Fox News - Family of Cornell student found dead after fraternity party searching for answers
The Ithaca Voice - Family of Antonio Tsialas offer reward for truth about his death
Attorney David Bianchi Testifies Before the Florida Senate
In March 2019, Attorney David Bianchi, alongside lawmakers and Tom and Sandy Coffey, proposed amendments to the Chad Meredith Act to make anti-hazing prosecution stronger in Florida. David Bianchi's expertise and the courageous testimony of the Coffey family convinced the Florida Senate Criminal Justice Committee to accept the proposals, bringing it closer to a floor vote.
To learn more about Attorney David Bianchi's work to toughen anti-hazing laws, click here.
Florida Legislature Unanimously Passes Andrew's Law
In April 2019, both chambers of the Florida Legislature unanimously passed "Andrew's Law," a series of amendments to Florida's anti-hazing statute written by Attorney David Bianchi. The law provides for the prosecution of hazing event recruiters and organizers to hold them accountable for hazing injury, even if they're not present; provides for immunity under the hazing statute for anyone who calls 911 or administers aid to the victims of hazing; and provides immunity as long as participants cooperate with the police, among other changes.
Offering immunity to participants who administer aid or call 911 will incentivize calling for an ambulance as soon as possible, saving lives as a result. Andrew's Law would also break through the culture of secrecy that makes investigating and prosecuting hazing so difficult.
The law is named for Andrew Coffey, who was killed in an Pi Kappa Phi hazing tradition at FSU in November 2017. He died of acute alcohol poisoning when he was told to drink a full bottle of Wild Turkey bourbon in a single night. He was surrounded by other fraternity members when he died, none of whom called an ambulance until it was too late. Andrew's Law was also partially inspired by the plight of Nicholas Mauricio, an FSU student who suffered permanent brain damage in a fraternity hazing tradition less than a year after Andrew's death. Nicholas was taken to the hospital by his fraternity 'brothers,' but their identical responses to questioning by law enforcement led a grand jury to believe they had coordinated their response. Mr. Bianchi and our firm represented both Nicholas and the Coffey family against the young men's respective fraternities, holding both the organization and the individual defendants accountable.
Governor DeSantis officially signed Andrew's Law in June 2019, making our state the uncontested leader in hazing law. To learn more, view the Daily Business Review article detailing the signing of "Andrew's Law."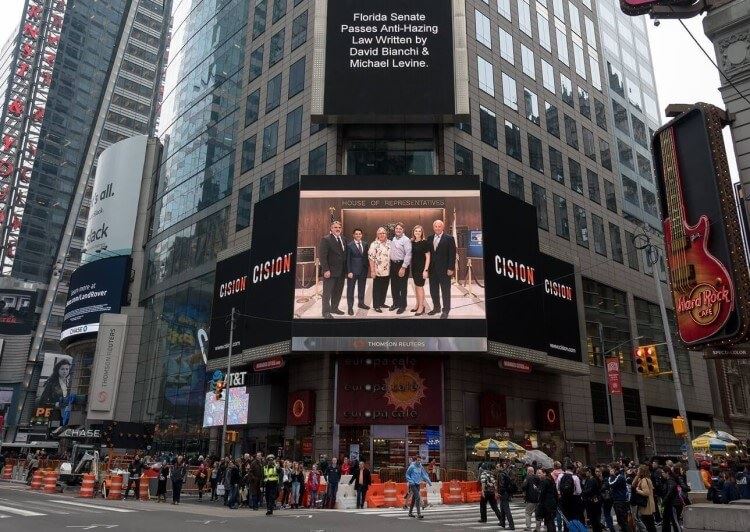 What Is Hazing?
Hazing is where someone is subjected to physical or mental duress before being permitted to join a group or organization such as a fraternity, sorority, team, etc. While hazing has been commonplace in the U.S., the parents of hazing victims have been speaking up and organizing against it. Their voices are being heard. It is gaining increasing awareness because of the dangers it poses. Every year, people are seriously injured and have even died from hazing. Many states have passed laws in an effort to stop it. David Bianchi even helped write the Florida Law about hazing signed by Governor Bush.
Although each act of hazing varies significantly, there are several things they have in common:
Hazing frequently takes place because of peer pressure where a group of people convinces someone to do something they would not typically do because of the fear of ridicule, embarrassment, or being rejected by others. It is typically performed in a situation where there is an apparent power differential between the abusers (typically senior members) and the abused (junior members or people looking to join).
Hazing centers on a rite, practice, or tradition—usually one involving initiation that has been going on for years and is being perpetuated by current members as was done in the past.
Even when the victim willingly participated, that is often not a defense under the changing laws.
Where Does Hazing Occur?
The most obvious place where hazing occurs is Greek life; however, that is not only where it occurs. It can also occur in sports, clubs, honor societies, and more. Wherever people are seeking admission, there is a threat of hazing. It is most prevalent in colleges and universities, but it can also occur at middle schools, high schools, companies, and more.
Is It True That Hazing Builds Unity & Camaraderie?
There's no evidence of any kind that hazing abuse builds "unity." What we do have is a wealth of knowledge showing that systematic and targeted abuse is used to exert control and power over others, and that the victims can be taught to perpetuate abuse in a vicious cycle. Fraternities are hierarchical organizations—there are senior ranking members, officers, junior members, and prospective members, or "pledges." While there is nothing wrong having ranks, fraternities often employ hazing to cement and solidify the power structure. It's why new members feel entitled to abusing new members: because their place in the hierarchy allows them to do so. That is what hazing creates: not unity, not camaraderie, but control.
Types of Hazing
Most students may have trouble identifying hazing because it can look so different. Hazing runs the gamut from pledges being told to carry books for fraternity 'brothers' to athletes being forced to commit sexually degrading acts during the ritualized abuse. Sociologists are just beginning to study hazing seriously, but there are 5 basic types worth discussing.
The types of hazing we see most often are:
Note that some forms overlap with other forms. For instance, many forms of sexual hazing are also violent, and alcohol abuse is one of the most common forms of fraternity hazing.
Examples of Hazing
Acts of hazing are often unique to the organization performing them. Usually, it involves the dangerous consumption of alcohol, with many injuries and deaths related to alcohol poisoning.
Other examples of hazing include the following:
Public humiliation and ridicule
Physical abuse, such as beating and paddling
Forced suffering of hardships such as sleep deprivation
Forced physical exercise or activities, especially in dangerous circumstances
Forced consumption of food, either in hazardous quantities or conditions
What Should I Look for in a Hazing Attorney?
Hazing is often committed by organizations like sports teams, clubs, university programs, and fraternities. All of these organizations are extremely well-prepared for litigation when tragedy occurs, which is why families need an equally well-prepared litigator in their corner. The victims of hazing don't just need someone who is a strong litigator; they need someone who is familiar with institutional dynamics, knows hazing law, and has had prior success in hazing cases.
That's why victims of hazing call Stewart Tilghman Fox Bianchi & Cain, P.A.
Our firm's case history includes winning the largest hazing verdict in history for the family of Chad Meredith, who was tragically killed in a fraternity-related incident. We've secured justice and sizable results for other victims of hazing nationwide. Our firm has represented the family of Andrew Coffey, who was killed by a fraternity hazing tradition, and the family of Antonio Tsialas, who was killed the same night as a rush event at Cornell University.
When it comes to knowing the law, STFBC is the only firm that can say we helped write anti-hazing law in Florida. The Chad Meredith Act, written by Attorney David Bianchi, was the first statute in Florida that made hazing a felony, and we recently helped pass Andrew's Law to offer groundbreaking protections for hazing victims while making it easier to hold perpetrators accountable. Anti-hazing advocates have praised our legislative work as "innovative."
We're the foremost hazing lawyers in the nation. If you have questions about what happened to you or your loved one, then speak with us in a free consultation today.
The Story of Chad Meredith's Fraternity Hazing
At our Miami personal injury firm, we have a long-standing commitment to standing up for the legal rights of individuals victimized and affected by acts of hazing. This can be traced back to 2001 when Attorney David W. Bianchi represented the parents of Chad Meredith, an 18-year-old student and high school baseball star enrolled at the University of Miami. Shortly after Chad began attending UM, he became a pledge for Kappa Sigma Fraternity. In November 2001, he was in the company of the fraternity president and two upperclassmen who were his brothers in the fraternity when he began to drink excessively. It was later discovered that his blood alcohol level was nearly two times the legal limit.
Still, the President urged Chad and the fraternity brothers to jump into a cold campus lake that night. Due to the alcohol and temperature, Chad struggled to swim and fell behind. He called for help that never came. Continuing to swim, his brothers left Chad. Hours later, police divers pulled his body from the lake. Our firm was retained by Chad's parents to help pursue justice. We asserted that his death was directly caused by negligence, a breach of fiduciary duty, and breach of duty to aid and/or rescue. In 2004, we tried the case before a jury in the Circuit Court of Miami-Dade County.
At the conclusion of the trial, the jury awarded $14 million to Mr. and Mrs. Meredith for the death of their son which is believed to be the largest fraternity hazing verdict in the country.
The Signing of the Chad Meredith Act
The Meredith family wanted to use their tragic circumstances as an opportunity to put a stop to hazing. Once again, they turned to our firm for help. When we learned that Rep. Adam Hasner (R. Delray) was in the process of drafting legislation that would make hazing resulting in wrongful death or severe injury a third-degree felony, Attorney David W. Bianchi offered to assist. During our case, the defendants' lawyers argued they could not be held liable because Chad reportedly agreed to swim in the lake. They argued that the swimming was not an event sponsored by the fraternity, and, finally, they argued that swimming the lake that night was not a condition of membership for joining the fraternity. While the jury ultimately rejected these defenses, we knew that it was possible for future cases to raise similar arguments.
Thus, it was one of our primary objectives to close such loopholes.
In the end, the legislation that Attorney Bianchi helped write was signed into law by Governor Bush at the University of Miami where Chad died.
Our Commitment to Fight for the Victims of Hazing
Our fight to put an end to hazing does not stop there. In the years that followed the Meredith case, we have continued to take on tragic instances where hazing led to catastrophic consequences. This included the 2009 case of Michael Starks, an 18-year-old pledge of the Sigma Nu fraternity chapter at Utah State University who was dead after a night of drinking.
Attorney Bianchi helped represent the family and pursued a case that asserted the death was the direct cause of the fraternity's straying from chartering principles, as well as the university's failure to recognize and act on the fraternity's culture of drug and alcohol abuse. More recently, our firm filed a lawsuit on behalf of the parents of Andrew Coffey, a 20-year-old Pi Kappa Phi pledge at Florida State University. Andrew died after consuming an entire bottle of 101 proof bourbon provided to him at "Big Brother night," a long-standing fraternity tradition. In his autopsy, his blood alcohol level was found to be six times the legal limit. In the lawsuit, we placed blame on not only on Pi Kappa Phi's national offices, but also on nine fraternity members, the fraternity adviser, and the individuals who rented the house where Andrew died.
To learn more about the case of Andrew Coffey, click to read this Daily Business Review article or this Wikipedia article.
Let Us Help You Get the Answers You Need About Hazing
If you or a member of your family has been victimized by hazing, or if you have lost someone you love to a fatal hazing incident, we encourage you to speak up and act now. The legal team at our law firm handles hazing cases and fraternity hazing lawsuits nationwide, and we passionately believe that students across the nation deserve better—and we will not stop until we have put an end to the dangerous traditions that continue to endanger them. To take the first step in learning about your options, contact us today. We offer completely free and confidential consultations where we can review your case, discuss your legal options with you, and help you understand your next steps.
We can help you through this very difficult time.