Attorney Michael E. Levine
Trusted Miami Personal Injury Lawyer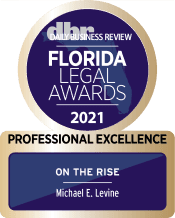 Michael is a shareholder with Stewart Tilghman Fox Bianchi & Cain where he represents people and families across Florida in catastrophic injury and wrongful death cases. Prior to joining the firm, Michael was a law clerk to United States District Court Judge Paul C. Huck and an associate in the litigation group at Bilzin Sumberg. He graduated with honors from the University of Florida and summa cum laude from the University of Miami School of Law. While in law school, Michael was a member of the University of Miami Law Review and the Charles C. Papy, Jr. Moot Court Board.
Michael has successfully handled cases involving medical malpractice, products liability, alcohol and dram shop liability, car accidents, and trucking accidents. Michael also represents clients that were killed or injured due to unsafe conditions on property.

Michael's practice also involves the representation of families of those who died or were severely injured as a result of dangerous hazing incidents. In 2019, along with David Bianchi, Michael drafted a bill to help strengthen Florida's Anti-Hazing law. The bill, which was signed into law in June of 2019, is named "Andrew's Law," after Andrew Coffey, an FSU student who died in November 2017 during a fraternity hazing tradition. Michael and David represented Andrew's parents in a civil suit against the national fraternity and 14 other defendants.
Notable Cases
Michael represented the parents of a nine-month-old that died while under the supervision of a local daycare. Less than six months after the tragic death, Michael resolved the case for $5,000,000, which was $2,000,000 more than the available insurance coverage.
Working alongside Gary Fox and Stephen Cain, Michael represented a woman diagnosed with significant heart problems, including atrial fibrillation, whose physicians negligently discontinued her medication, causing her to suffer a stroke rendering her hemiplegic. The jury awarded approximately $8,000,000.
In a product liability action against a medical device company, discovery revealed that the company knew of its products' failure but failed to initiate a recall or take any measures to alert consumers and fix the issue. The case settled for over $7,000,000 on the eve of trial.
Michael represented the family of a young woman murdered at a shopping mall in Coral Gables, Florida. This case was settled less than a year after the incident.
After Michael's client was struck by a speeding 18-wheeler, she suffered a terrible back injury in addition to receiving nerve damage to her hand that required multiple surgeries. Five months after the accident, the case settled for $5,000,000.
After a young mother went in for routine surgery, the hospital's nurses failed to monitor her appropriately. Meanwhile, extremely high doses of narcotics were administered resulting in our client's respiratory arrest and death. The case settled on the eve of trial for over $10,000,000.
Obtained a $2,000,000 settlement after a construction accident resulted in the electrocution and death of a worker. Michael and partner Dax Bello were able to overcome the hurdles posed by Florida's Workers' Compensation law in order to resolve this case on behalf of the worker's two young daughters.
Obtained a $1,400,000 settlement in a workplace wrongful death case. The details of the incident remain confidential, but this settlement was obtained in less than 6 months despite challenges posed by Florida's Workers' Compensation laws
Obtained a $15,000,000 settlement in a case involving the negligent care of a baby following delivery. As a result of the firm's efforts, this child will have the care she requires for the rest of her life.
Community Involvement
Michael is active in the community serving on the board of directors of Jewish Community Services of South Florida. He is also involved in the legal community, serving on the board of governors of The Florida Bar Young Lawyers Division and as co-chair of the Personal Injury Committee for the Miami-Dade Bar Association. Michael was also recently appointed to The Florida Bar's Civil Procedure Committee.
In his free time, Michael enjoys spending time with his wife Sari, sons Cameron and Aiden, and friends and family.
Awards & Honors
Best Lawyers® for Medical Malpractice Law – Plaintiffs (2024)
Florida Super Lawyers® Rising Stars (2019-2022)
Top Up & Comer by South Florida Legal Guide (2019)
Top 40 Under 40 South Florida Lawyers, Cystic Fibrosis Foundation (2018)
Daily Business Review On the Rise Award (2021)
Publications
Michael also writes and speaks on topics relevant to his practice. His articles include:
Speaking Engagements
Basic Personal Injury Law CLE, The Florida Bar, Moderator, 2017
From Law Student to Young Lawyer – Judge Paul C. Huck Federal Observer Program, Moderator, June 2016, June 2017, June 2018
Andrew's Law, National Hazing Prevention Week, University of Miami, September 2019
Andrew's Law, National Hazing Prevention Week, Florida State University, September 2019
Andrew's Law, National Hazing Prevention Week, University of Central Florida, September 2019
Deposition 360: Preparation, Strategy, & Execution of Taking an Effective Deposition, Dade County Bar Association Young Lawyers Section and the Florida Association for Women Lawyers, Moderator 2019
Preparing for Trial in Personal Injury Cases Bench & Bar Conference, Dade County Bar Association Bench & Bar Conference, Moderator 2019
Deposition 360 Webinar Series, Dade County Bar Association and the Miami-Dade Chapter of the Florida Association for Women Lawyers, June 2020
The Blueprints CLE: How to be an indispensable associate, Dade County Bar Association and the Miami-Dade Chapter of the Florida Association for Women Lawyers, March 2021
Hazing Horrors: Holding fraternities accountable – Arkansas Trial Lawyer Association April 2021
The Blueprints: Oral Advocacy in State Courts – May 18, 2021 – MDFAWL, DCBA – presented with Marianne Curtis and Judge Samantha Ruiz Cohen
"Preparation and Execution of an Effective Deposition" Civil Litigation Skills for New Lawyers, University of Florida Levin College of Law January 2022
We Don't Just Talk About Results. We Get Them.

Stewart Tilghman Fox Bianchi & Cain, P.A. won a record verdict for a 77-year-old stroke victim who lost the use of the left side of her body due to the negligence of her doctors. Despite being at a higher risk for blood clots and strokes, her cardiologist and electrophysiologist (a heart rhythm specialist) took her off Coumadin—a medication designed for preventing blood clots and strokes. The defendants argued that the patient didn't deserve a large verdict due to her advanced age and lower life expectancy. The jury saw through their cynical arguments and awarded our client nearly $8 million—the most damages awarded to a malpractice victim over the age of 70 in Florida history.
$15 Million

Truck Accidents

$14.5 Million

Pedestrian Accidents

$12 Million

Defective Products

$11 Million

Personal Injury

$10 Million

Medical Malpractice