Fraternity Hazing Lawyers
Helping Victims of Fraternity Hazing Nationwide
Hazing isn't limited to Greek life, but fraternity hazing is what most people visualize when they think of the word "hazing"—and in many ways, it typifies everything tragic and infuriating about it. All hazing relies on some form of coercion, but fraternity hazing preys specifically on a person's need to belong. Many fraternity hazing deaths happen to "pledges," or people who are working to earn their way into the tribe. The way they usually earn it is through acts of "courage" (read: acts of humiliation, exposure, alcohol abuse, and submission to a senior member of the fraternity).
Fraternity hazing is more insidious than general hazing for another reason: few people see it for what it is.
College authorities and parents do nothing because it's one of the only culturally-accepted forms of bullying. If a coach was forcing would-be athletes to drink excessively to get onto the team, he'd be recognized for the predator that he is. But when put in the context of a fraternity, of brotherhood, then that same abusive coercion becomes "character-building" and "tradition." These are the words used to shield fraternity hazing from a cultural reckoning—or at least, it was. Now parents are seeing fraternity hazing for what it is: a wasteful, tragic, and utterly needless component of college life.
Attorney Bianchi Testifies Before Florida Senate Committee
Attorney David Bianchi testified before the Florida Senate Criminal Justice committee in March 2019 to propose amendments to the Chad Meredith Act. The proposals included granting immunity to the first person to call 911 on behalf of a hazing victim (provided they cooperate), prosecuting hazing suspects for causing permanent injury, and holding the organizers and recruiters behind hazing events criminally liable. As one of the architects of the Chad Meredith Act, Mr. Bianchi knows well what the victims of hazing need to hold wrongful actors accountable. In his words, these proposals help make a "good law even better." Their testimony convinced the committee to approve the proposals, bringing it one step closer to becoming law.
Visit our recent blog to learn about Attorney David Bianchi's efforts to toughen anti-hazing laws.
Florida Lawmakers Pass "Andrew's Law"
In April 2019, only weeks after Mr. Bianchi's original testimony, the Florida Legislature unanimously passed the amendments proposed by David Bianchi and the Coffey family. Lawmakers also voted to change the name of the bill to "Andrew's Law" and sent the bill to the governor for signing. The law was named for Andrew Coffey, an FSU student who died during a Pi Kappa Phi tradition where he was told to drink an entire bottle of Wild Turkey bourbon. When fraternity members found him, they spent 11 minutes texting one another before they called an ambulance. By then, it was too late. The provision granting immunity to the student who calls 911 first is a response to his story.
Andrew's Law was also drafted in response to the story of Nicholas Mauricio, another FSU student who was left permanently brain damaged during a violent hazing tradition called "Scumbag of the Week." While Nicholas' 'brothers' brought him to the hospital, their answers in response to police questioning led a grand jury to believe fraternity leaders had scripted everyone's answers. Granting immunity to the first person to cooperate with the investigation would break through the culture of secrecy that protects wrongdoers.
Mr. Bianchi, who represented both Nicholas and the Coffey family in civil suits against the fraternities and their leaders, wrote Andrew's Law to make sure that Andrew's death and Nicholas' injury would never be repeated. We're proud of our lawmakers for recognizing the necessity of this legislation.
Governor DeSantis signed the bill into law in June 2019, making Florida the nation's leader in hazing law. To learn more, view the Daily Business Review article detailing the signing of "Andrew's Law."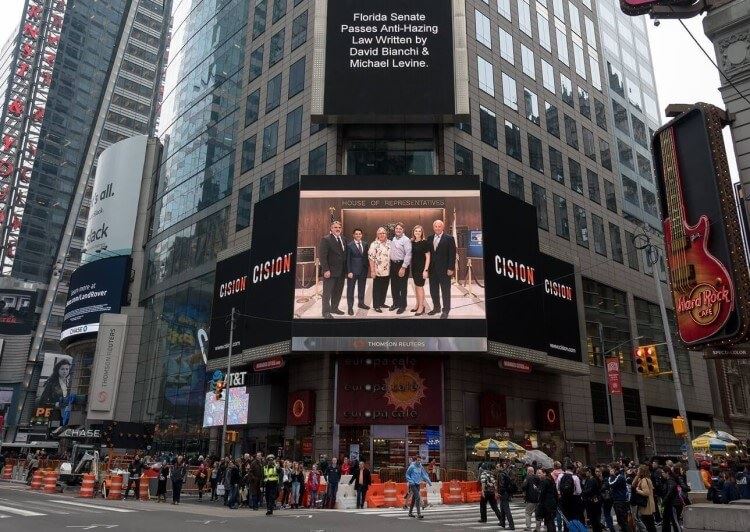 What Is Fraternity Hazing?
Hazing is a form of social conditioning used to coerce, abuse, and humiliate young people into putting themselves at tremendous, meaningless risk. Fraternities use it to weaponize our deepest desire: our need for community. By turning initiates into puppets, modern fraternities subvert and mock the 'values' their organizations stand for.
Giving Our Youth a Voice Against Abuse & Coercion
Hazing is a heinous, widespread form of abuse that few people can identify and even fewer people have spoken out against. See if you can note a pattern in the deaths of the young people below—all of whom were 18-20 when they died.
Chad Meredith (2001)
Kappa Sigma. Drowned 34 ft. from shore after a night of drinking. His "brothers" demanded the drunken swim. He inspired the law that made hazing a felony in Florida.
Andrew Coffey (2017)
Pi Kappa Phi. Was killed by toxic alcohol consumption during a fraternity ritual that forced Andrew to drink an entire bottle of hard liquor.
Maxwell Gruver (2017)
Phi Delta Theta. Killed by alcohol poisoning and aspiration during a ritual called "Bible Study."
Tim Piazza (2017)
Beta Theta Pi. Died after falling down the stairs while drunk after a night of ritualized drinking.
Ryan Abele (2016)
Sigma Nu. Killed by slipping and falling when his "brothers" yelled at him to get down the stairs following a long night of drinking.
Nolan Burch (2014)
Kappa Sigma. Died from excessive alcohol consumption and was found with blue coloration on his face during an initiation ritual.
Tucker Hipps (2014)
Sigma Phi Epsilon. Died from head injuries when he fell from a bridge into a shallow lake. An anonymous witness said he was forced to walk the narrow railing of the bridge before his fall.
Fraternity Hazing Attorneys Fighting for Justice
Our hazing lawyers won't allow hazing to go unpunished—we won't allow the harm of our children at the hands of 'clubs' sanctioned by universities looking the other way. Our firm is responsible for the largest single verdict ever awarded in a hazing case—a verdict that helped bring justice to the death of Chad Meredith. The fraternity hazing lawyers at our Miami personal injury law firm are responsible for helping the Coffey family find justice in the wake of his death.
If your child was harmed or killed by fraternity hazing, speak with our attorneys to learn what you can do, how you can hold negligent fraternity leaders accountable for your loss.