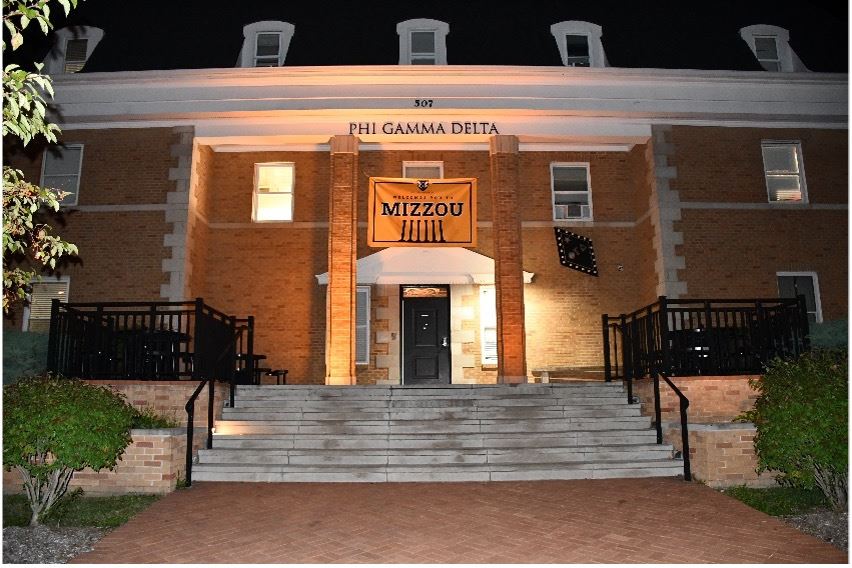 All 23 defendants in the Danny Santulli hazing case filed in Columbia, Missouri have settled our claims just six months after we filed the case. Our mission to ensure that Danny will always have access to the very best medical care has been achieved. This was an injury that never should have happened. The Fiji chapter was on alcohol probation the night Danny was injured, and the fraternity leadership acted as though it was business as usual with alcohol everywhere. While the civil justice system has done its job, we await the decision of the prosecutor to find out if the criminal justice system will do the same thing.
'Testing Points'
Daniel Santulli was a talented and wonderful young man from a first-class family. The Recruitment Chair from the Fiji chapter at Mizzou recognized that and attempted to convince him to become a pledge before he even moved to campus. For Danny, pledging Phi Gamma Delta seemed like an excellent way to make lifelong friends.
For Phi Gamma Delta, it was a different sort of opportunity.
Danny's parents received a letter from Phi Gamma Delta a few months into Danny's freshman year that told them, among other things, "our members will face situations where their values will be challenged...We call these experiences testing points." It meant nothing to them at the time but, in retrospect, the meaning of that ominous warning became clear to them.
During the first few months of Danny's pledge process, he was at the beck and call of the Fiji fraternity brothers. He was tasked with buying alcohol, marijuana, and food at all hours of the day and night with his own money. He was required to clean the members rooms whenever they demanded it. He had to run errands for them, go to class to sign in the brothers who didn't bother to attend on their own, and on and on. Eventually, he started sleeping at the chapter house to make himself more available at all hours, despite paying for his own dorm room.
As a result of this exhausting and demeaning process, Danny started losing sleep. His grades slipped, and the constant pressure to obey his superiors left him anxious and stressed. The obedience came with a physical cost as well: in one incident, he was ordered to climb inside a trash can with broken glass inside. He ended up cutting his foot and needed to go to the hospital to get stitches and crutches.
Danny's mental health worsened, and the fraternity brothers kept pushing and pushing him.
The Worst Hazing Injury Ever
On October 17, 2021, Danny's sister, who was a junior at Mizzou, went to visit him. What she saw frightened her: Danny was clearly suffering the effects of fatigue and depression, and he was suffering from the constant demands and humiliation. For the first time in his life, he broke down and cried to her and said, "I can't take it anymore." A typically happy young man was being reduced to a shell of his former self.
Danny's sister immediately reported what was happening to their parents, who then told Danny to just quit and walk away.
Danny refused—the only thing worse than the hazing he was suffering was the humiliation he would suffer if he quit. Like many pledges before him, Danny felt that he'd suffered too much to turn back now. He was almost there.
Two days after his tearful confession to his sister, Danny and the other 35 pledges were told to report to the chapter house. Just 13 days after the Mizzou Fiji chapter was put on alcohol probation by the University, they hosted the mother of all alcohol events: its annual "Pledge Dad Reveal Night," where pledges are blindfolded and brought before their 'pledge dad.' Per Phi Gamma Delta tradition, Danny was handed a bottle of Tito's vodka he was expected to finish quickly—a tradition commonly known as drinking "the family bottle." All pledges were pressured to continue, regardless of how they were feeling. It was part of the tradition that went on every year.
At midnight, someone found Danny with pale skin and blue lips collapsed on a couch. He was unresponsive. Instead of calling 911, fraternity members picked him up to drive him to the hospital, but they dropped him on his head on their way to the exit door. It was all captured on surveillance video. When they eventually arrived at the hospital, before they could even get him out of the car, ER staff came out and realized he wasn't breathing and was in cardiac arrest. Their heroic efforts managed to get his heart restarted—saving his life—but he has been left with massive and permanent brain damage. It is the worst fraternity hazing injury ever.
STFBC Launches an Investigation
Shortly after this happened, the Santulli family reached out to David Bianchi and Michael Levine from our firm and asked them for help. David and Michael represented the parents of Andrew Coffey, who died following a nearly identical event at Florida State University in 2017; David, who has the largest fraternity hazing verdict in the country, has been representing the families of hazing victims for more than 25 years. "This was something we immediately understood, and we wasted no time launching an investigation," David said. Within 4 weeks of being hired, our firm filed a 51-page lawsuit against 23 defendants, all of whom played a role in what happened to Danny.
Fighting for Danny Santulli & Students Like Him
We are pleased to report that after 6 months of non-stop work, we have settled with all 23 defendants in the case and have made a recovery that will help provide Danny with the extensive care he will need in the future. Michael Levine summed up our efforts this way: "These fraternity hazing incidents never seem to end, despite our efforts to stop them, and we will continue to provide the very best representation for hazing victims and their families whenever we are asked to do so."
The Santulli family is very grateful for the work we have done for their son and had this to say following the announcement of the settlements: "We feel very fortunate to have found David and Michael to represent us in this matter. Their commitment to our son's case and the results they delivered in just six months from the time we hired them are beyond anything we ever imagined. We could not be more pleased with the work they did for us."
For more about this case see the following links: